How to Order for Curbside Pickup

ORDERING:
Our menu is a la carte, so be sure to order any sides that you and your family may want.
Pickup hours will be from 3:00 to 8:00 onThursday, from 12:00 to 8:00 on Friday and Saturday, and from 12:00 to 7:00 on Sunday. We are not offering delivery at this time.
There are three ways to order for Curbside Pickup:
1 - Through the link our web site at galestreet.com
2 - On the Toast Take Out app on your phone
3 - By Phone - call us at 773-725-1300 starting at 2:00 on Thursday and at 12:00 on Friday, Saturday and Sunday.
To order through our web site
–
There is a button at the top of our home page "
ONLINE ORDERING FOR CARRYOUT
". This will take you directly to our ordering page:
Choose a Menu:
INDIVIDUAL MEALS, FAMILY STYLE or TRAYS.
Make your selections:
Select your choice and place your order, indicating when you will pick it up.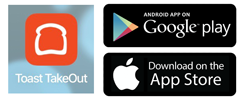 The Toast Take Out App
–
The Toast Take Out app works in a similar way. The Toast Take Out app can be found in app stores and downloaded to your phone free of charge.
Choose Gale Street Inn (we may pop up if you are nearby, or you can search for us) and place your order the same way as on the web site.
Phone Orders –

Review our
menu
at galestreet.com to make your selection, then call us at 773-725-1300 to place your order.
We will take your credit card information for the transaction so we can remain cashless.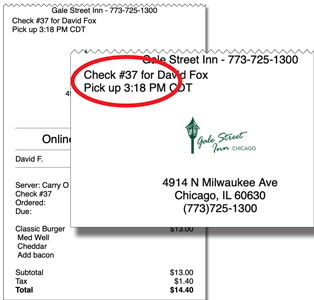 PICK UP:
IMPORTANT

:
When you receive your order confirmation, you will get
a check number
shown at the top (see example).
Please display this check number in your car (window or dashboard) so we know which car to deliver to.
You can use our adjacent parking lot, stay in your car and we will bring your order to you.
We will have GSI staff in the parking lot to direct you. Just pop your trunk when we bring your order out and we'll place it in there for you.
You will see familiar Gale Street Inn faces serving you just as before!
Despite wearing masks now, our faces hold smiles to greet you with.